What is a three season porch?
A three season porch is an enclosed addition to your home, and is oftentimes called a sun room. Unlike a four season porch, the three season porch is not insulated. While this means it might be chilly to use during the winter months, it also means you cut costs on insulation.
Why build a three season porch?
Whether you prefer entertaining, or quiet relaxation, a three season porch is an easy choice. This addition allows for extended use of your porch space, during more months, and more weather conditions.
Tips to consider before building:
Think about screens and windows.
You have a few options when it comes to windows and screens. Our recommendations are either interchangeable screens and windows, or a combination screen/window. The interchangeable option looks clean, but it does require storing one set while the other is installed. The combination option self-stores, which is less time- and space-consuming.
Ensure your measurements will accommodate standard-size doors and windows.
A contractor on This Old House comments, "Think about it: I could charge you to build custom-fitted porch screens on-site, or I could measure out the framework to accommodate standard-size wood doors and cut down my labor costs by about a third."
If you can, opt for a south-facing porch.
This allows for more sun to warm up the space during chilly winter months.
Consider customizations.
Skylights and solar panels, for example, might be important options in your home. You can also think about interior customizations, such as a board game nook, or wheelchair accessibility.
http://makenessmedia.com/blog/
For more inspiration, check out this blog on Front Porch Ideas.
Inspiration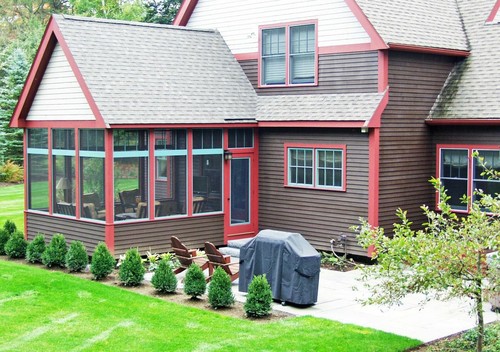 (source)